Titulo: Call of Duty: Modern Warfare 3
Idioma: Multilenguaje.
Categoria: Accion, Combate, Shooter.
Plataforma: PC
Tamaño: 13.9 GB Aprox
SO: XP / Vista / Windows 7
Uploader: @thebagbois
Requerimientos Oficiales
OS: Windows XP, Windows Vista or Windows 7
CPU: Intel® Core™ 2 Duo E6600 or AMD Phenom™ X3 8750 processor or better
RAM: 2 GB
GFX: Shader 3.0 or better 256 MB NVIDIA® GeForce™ 8600GT / ATI® Radeon™ X1950 or better
DX: 9.0c or later
HDD: 16 GB free hard drive space
SINOPSIS:
Tercera entrega de Call of Duty: Modern Warfare, un nuevo episodio de la popular saga bélica de Activision que en esta ocasión está desarrollada por Infinity Ward, Sledgehammer y Raven Software. El juego da inicio donde terminó Modern Warfare 2. Modern Warfare 3 está ambientado en un mundo al borde de la aniquilación en el que Makarov y su organización terrorista desencadenan la destrucción y el caos a lo largo del mundo. Jugando como miembro de varias unidades de las fuerzas especiales y armado con el armamento más avanzado, los jugadores colaboran con los operarios Delta y se reúnen con personajes conocidos para entrar en un juego peligroso de cat-and-mouse al tiempo que compiten a lo largo del mundo para detener a un hombre loco antes de que sea demasiado tarde.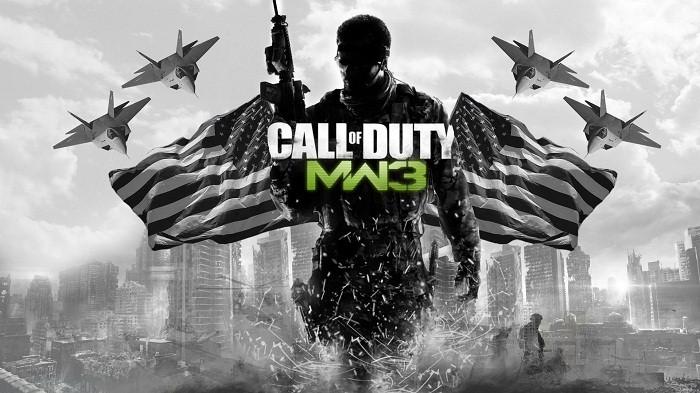 SERVIDOR MEGA 20 PARTES DE 700MB Y 1 DE 231.9 MB
https://mega.co.nz/#!4kIRXToS!fRWFQTPyEs5IJ8OOqUn1yXXox-55GDUPIQRtV6XktMo
https://mega.co.nz/#!ZpQQVZ6Y!cXhZbiuSJv1PX3xAsYTrFmocAXAA2sdwSLOPbpy3FV4
https://mega.co.nz/#!0ggCmbAK!ITTjGFhGa5VLHn-ZQ-9nlmKBXepHR2_bZ-dG0x9xveA
https://mega.co.nz/#!5xoTSbhb!O_An8ROlAUKiixKU9zKTWU0Dxbd3YP1In2D4u9jmeGw
https://mega.co.nz/#!19R0WDTA!TXE_lgoBoG-xMYGXR4MTMxcsXNt0eKmTqZVajy3lo78
https://mega.co.nz/#!4k5hxJSB!c2aEjz2ncnrtAJUm7s3twyIEVms1ShcojwJlaZ4RWkM
https://mega.co.nz/#!EoAnjKZB!ZVkmeXnxtCaIScwgMiQ5pwnFbBc0O0Pz15upTicrx40
https://mega.co.nz/#!5wATzLAa!FcUWKEV9Xow9RzJ3J3OcLRDzjZRMpQcDAKKdbi8yFRM
https://mega.co.nz/#!BpgXhZqR!TH29rjPMcl6r7lnkk_wrTR2R7cgHtj0hm3XLMIvGPiI
https://mega.co.nz/#!g5ABULYR!b7rgbEJDJrM0aLC6UDLvP0_Dh1AQdMnWMyBP_mCRZ4Q
https://mega.co.nz/#!Z5Y0VYSD!dDC4qlR0iHP-30g_Z28DXk4irJ0iY-ui6QQxPhArJYo
https://mega.co.nz/#!woQgUCTQ!HxUr4iO9XtU8g_sLFznpFlMcOLB0FDMsUymZ1RVnwA8
https://mega.co.nz/#!Qo4DmIxb!Mnz_5RXdWRGFZoRAxuFw8x8QNLx9n5oc3v-0v98SRvI
https://mega.co.nz/#!R9Q1GTKZ!ci9BqRTkz6RHNsU8xcJus0hjdDtqI-VrIsWtpf6gv8g
https://mega.co.nz/#!wkonFSAQ!R_AhCDiU6Etqwa_Kpk9fsE8jGy4mlnZoZBzq-OFEMjA
https://mega.co.nz/#!BspzSBhb!f2AJagAqybmApX3RtfO1IGrV7XA4pco-mA0CitrN9ZE
https://mega.co.nz/#!YgxCTIJB!PD9JElkxqYrX9hEuSiorCGMfzeF1TWOO66pvaGjVWos
https://mega.co.nz/#!Q4hC1QCQ!DSknIjM-wvS5kkj-EVGgKwluyLMULSh8iMp1wAKUS2E
https://mega.co.nz/#!p1gh0Z5b!X3PUXwuEpgZ1xGkMTP-SHz0_FSB_6ti0M6vCPhPn66s
https://mega.co.nz/#!5x4GTRbR!F0Bl7VGAasc-j5Djb1fCwHNEjJVviIQCcmKVChn1WcM
https://mega.co.nz/#!8lZSTSaR!e64DSGFZrlgoUlH_NKLFtUfdZmMQG7FzOYqYekOGnlw
Estos lincks no son mios los mios fueron borrados los resubire de nuevo
Crack
Intrucciones de Instalacion
1. Descargar Todas las Partes!
subraya cada parte
click derecho y ir a http:// etc.
2. Descomprimir dandole vala parte 1 de cada DVD extraer aqui
3. Montar la ISO con el Ultraiso o daemons Tools
4. Descargar - Crack-Skidrow e ir a la Ruta de Instalacion del Juego
5- Jugar ( Ajustar La Configuración Grafica Ideal,Rendimiento-Calidad )
6. Jugar Y Agradecer
Parche Para Jugar Online Por TeknoGods:
1. Lo Unico Que Tienes que Hacer Es Descargar Estos 2 Archivos .Rar
2. Descomprimir Y Copiar Su Contenido
3. Pegar Todo Donde Tienes El Juego Instalado
4. Por ultimo Ejecutar El Archivo TeknoMW3.exe
5. Te Pedira poner un nombre para Entrar Al Juego
6.Le Das A Multiplayer Y a Start (LAN/ONLINE)
7. Y Listo A Jugar
Linck de el TeknoGods
-->
https://mega.co.nz/#!Itk2kZwL!FvevU2Adwwm5OlUFN5Pks0JvZPBhmxbIkpBdLBxtuRM
https://mega.co.nz/#!N4USwA6T!NcYZ0Ek4UgH4edvAntU24D0lk0wTDHuUzxA9KtUI0nI